Afghanistan is prone to landslides, flooding, earthquakes, and extreme droughts. They have devastating effects on people's lives when infrastructures and resources are poor. AfD delivers basic needs identified by the affected people such as shelter, health checks, food and water.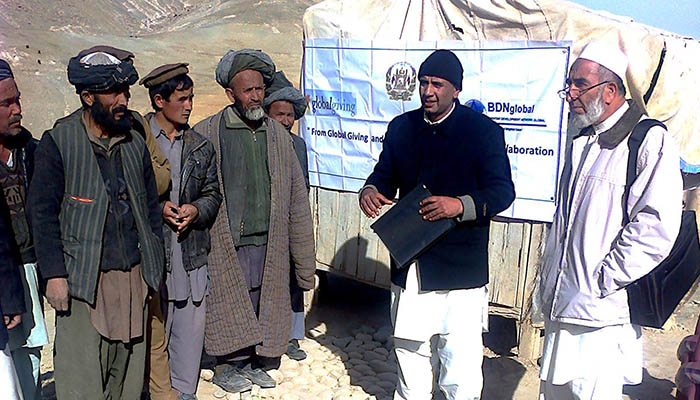 Water Aid
Argo, Badakshan
Badakhshan is located in the north of the country. Prone to frequent landslides, it is one of the world's poorest regions. In May 2014, a landslide in Argo district caused by heavy rains resulted in 2500 people killed, severely hurt or reported missing. Livelihoods were destroyed, affecting around 1000 families and the lack of access to drinking water brought aggravated risks of disease.
For the displaced people from the Argo district, AfD provided access to drinking water with gravity water filters. In part together with Afghanaid, a total of 747 people benefitted from the project, including 475 children under the age of 15.
Winterization Campaign 2019
Kabul, Kapisa and Parwan Provinces
From mid-November 2019 through January 2020
Action for Development, with the support of the Stanley Thomas Johnson Stiftung Foundation and the Municipality of Bernex, distributes heaters, coal and wood to individuals and families in need, to withstand the harsh temperatures and weather conditions of the winter months.
Among the beneficiaries of the winterization project were the families of about 200 children attending AfD's schools for street-working children in Kabul; Action for Development also distributed additional items, like shoes and coats, to children attending our schools.
Winterization Campaign 2016
Jurm, Badkashan
Badkashan is not only prone to natural disasters but also to severely cold winters with extremely low temperatures and heavy snowfall.
In collaboration with Afghanaid, AfD provided life-saving winterization aid to 96 households in March 2016. People were given multipurpose heaters and wood, which helped their families survive the region's harsh winters.
Each household received 210kg of wood and one locally produced multipurpose heater, which allowed them to heat their houses, cook and boil water throughout the winter. In line with our vision of empowerment, all heaters were locally manufactured to provide work opportunities to local manufacturers. Approximately 700 people benefited from the distribution.
Mobile Health Service
Kabul
Due to the ongoing conflict in Afghanistan, a lot of families have to flee their homes forcing them to live in displacement camps in and around Kabul. Most of them live in poverty and lack access to basic needs to survive the cold winter months.
In January 2018, AfD's mobile health team from the Comprehensive Health Center visited an IDP camp in Kabul, Afghanistan. They provided basic health checks to around 40 families and distributed medicine whenever it was deemed necessary. A lot of the patients were suffering from respiratory diseases. People who were in serious conditions were referred to hospitals and other health facilities for proper treatment. A majority of them were either children suffering from severe malnutrition or pregnant women who were referred for antenatal care.