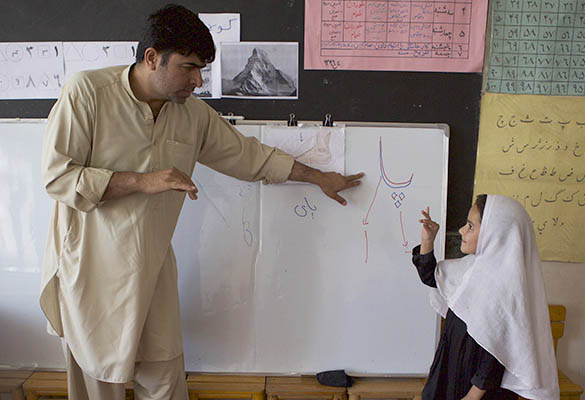 Rahyab School for Disabled Children
Location – Kabul
Focus – Education
A report issued by Handicap International in 2005 stated that about 200,000 children in Afghanistan are affected by at least one type of disability (physical, sensorial or mental). 75 percent of these children do not attend school.
In 2004, two staff teachers and six volunteers (themselves with physical disabilities) decided to gather children with disabilities to teach them sign language, basic literacy and numeracy skills. What started as a community-based initiative has developed into the Rahyab School (Persian for 'finding one's way') and now welcomes around 450 children every day, with 40% of them being girls. In 2013 community members donated land and equipment for the construction of a school building.
Today, the school provides basic education, food and transportation for blind, deaf and/or speech impaired boys and girls from very poor families in Kabul. Since 2011, AfD has provided operational and advocacy support, although our main role is providing the children with lunch every day. Nutrition remains our priority since most students' parents often struggle to feed their large families.
The school's curriculum is specifically designed to provide children the necessary skills that will help them cope with their disabilities, such as braille and sign language. The children also learn a wide variety of vocational skills, including IT, music, sewing, waiter training or bicycle repairing. The school also provides psychological therapy to help the children overcome trauma.The school currently employs 33 specially trained teachers, many of whom are themselves disabled and thus understand the special needs of the children.
Former students have found jobs in various areas such as hotels, tailoring businesses and technicians in electronic shops. Some of them have become teachers at the Rayhab School themselves. AfD plans on developing strategic partnerships with private businesses, NGOs and government agencies in Afghanistan to introduce the school's graduates as prospective employees.