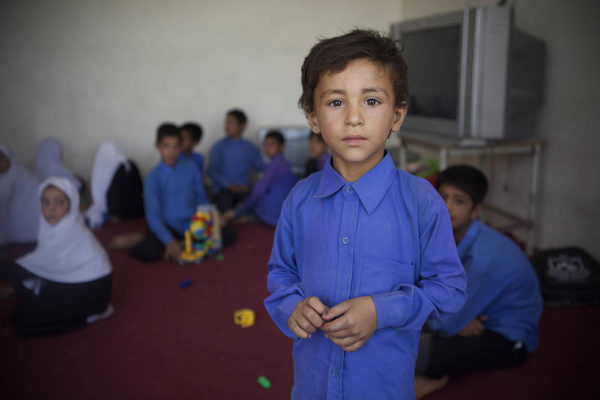 Action for Development launched its new logo and website on 17 May 2018, giving the organization a fresh and friendly look. This was made possible thanks to the collaboration with Gloriamundi, an organization specialized in assisting other NGOs with communication work.
AfD's revamped website showcases beautiful pictures highlighting our work on the ground, which were captured by Afghan female photographer Rada Akbar. Starting out as a painter, Ms Akbar soon switched from a paintbrush to a camera lens to highlight the situation of women and children in Afghanistan.
The new logo was created by Graphic designer Flavia Munafò, who visualized Action for Development's values and vision. The two figures in the round circle represent arrows pointing upwards, symbolizing growth and positivity. The figures also signify a parent with a child or a child developing into adulthood. Embracing them is the red circle, symbolizing a safe and healthy environment in which they can blossom. The choice of a rounded typography was to emphasize a human touch to this new logo and to transmit a comforting feeling.
Action for Development is steadily growing since we set foot in Geneva. The newly launched healthy and simple look will accompany us into new possibilities and along exciting journeys ahead.