By Alison Farnham MA, MMedSci, Action for Development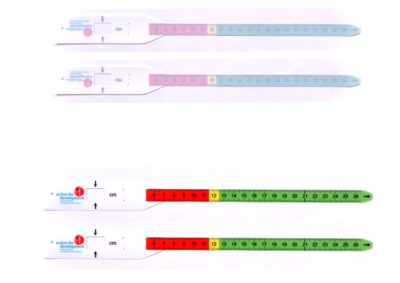 The COVID-19 pandemic has particularly impacted women and children's health, putting many at severe risk of malnutrition. According to UNICEF, in Afghanistan, where 1 in 17 children die before their fifth birthday, the Ministry of Public Heath reported a "significant reduction" in visits to health facilities. While that might be a result of fear of contracting COVID-19, avoiding healthcare facilities is a risk, experts say.
In order to help improve uptake of services for malnutrition at community level, Action for Development is in the process of launching a new project specifically designed to provide quality training to Community Health Workers (CHWs) in the Family MUAC approach. This training will use materials adapted by UNICEF for use in the COVID-19 context.
Following the training, 500 CHWs will have acquired the necessary skills to teach caregivers in their local communities to use MUAC tapes to assess their children for malnutrition, leading to earlier referral for treatment.Each CHW is responsible for a population of between 1000/1500 individuals.
The first training phase of the program took place in Kabul, at AfD's field office, in September 2020,when 4 female health workers received 'Training of Trainers' training in "Family MUAC"from Dr Dashti, of the Public Nutrition Department (PND).
The "Family MUAC" approach, also known as "MUAC for mothers", trains mothers and other caregivers to identify early signs of malnutrition in their children using a simple-to-use Mid-Upper Arm Circumference (MUAC) tape.MUAC providesa rapid measurement of body composition,is globally recognised as a best practice community measurement approach for identifying children at high risk of death as result of thinnessand is now widely recognised as an approach with huge potential to improve malnutrition outcomes.   In addition to giving CHWs more time to carry out other tasks,empoweringmothers (or othercaregivers)to take MUACmeasurements,(studies show caregivers are able to take measurements as accurately as healthcare workers) cases are detected earlier, meaning more children are treated successfully in less time, with a positive knock on effect reducing cost and the burden on resources.
The next phase of the program willbe carried out in 5Provinces of Afghanistan: Kabul, Daykundi, Bamyan, Panjshir and Jowzjan.During this phase, 500 CHWs and 200 caregivers will be trained in the Family MUAC approach.
In addition to the training,messages developedby UNICEF Afghanistan to raise awareness of therisks of malnutritionduring COVID-19 will be disseminated through radio and social media in thelocal communities targeted by this project.
The Family MUAC project is funded through top-up funding made available by the SUN Movement Pooled Fund.
For more information on AfD's efforts towards the eradication of malnutrition in Afghanistan: http://www.actfordev.org/projects/sun-project/
For more information on the family MUAC approach: https://www.acutemalnutrition.org/en/Family-MUAC