Advocacy
AfD strives for empowerment of communities and improved human rights in Afghanistan. Our vision for Afghanistan is a society based on democracy and law, where every person is conscious of his or her rights and has the chance to assert them.
We direct our efforts to promote the rights of the most vulnerable: Women, children, people living with disabilities and isolated communities. Whether through high-level events in the United Nations, workshops in Universities, or field visits to communities in Afghanistan, we make sure core messages are heard to serve sustainable development efforts.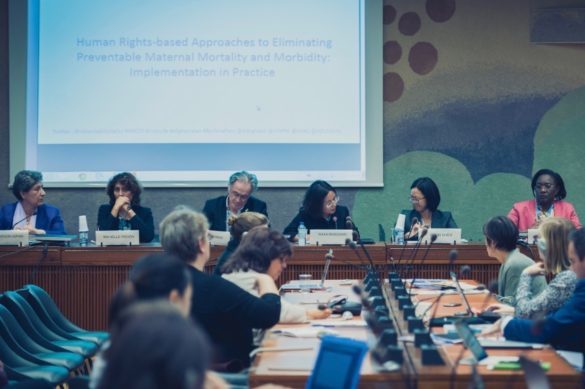 Events
United Nations Event – Rights based Approach, Maternal Mortality
In 2015, AfD organized an event in cooperation with the World Health Organisation (WHO), the United Nations Population Fund (UNFPA), and the permanent mission of Afghanistan, and other countries on the sidelines of the UN Human Rights Council in Geneva. The event focused on Maternal Mortality as a human rights concern, needing accelerated efforts towards achieving the Millennium Development Goals (MDGs, now revised to SDGs).
Education and Research
Graduate Institute Workshop on Social Innovation
To find innovative solutions for safe water provision, AfD sought technology and education-driven solutions. This provided an opportunity to engage students from the Graduate Institute Geneva (IHEID) through their organization called C4SI – Collaborate for Social Impact. Students developed a detailed design for a water treatment solution through the Comprehensive Health Centre, adapted for a small sized NGO like AfD.
Field Campaign
Water, Sanitation and Hygiene
(WASH)
Decades of war left many Afghans without proper sanitation and clean water infrastructures. Combined with a lack of hygiene education, communities are exposed to dangerous waterborne diseases. Through its WASH program, AfD has led awareness raising campaigns together with the Afghan government to educate and assist people in rebuilding water sources and pass on hygiene practices.