Comprehensive Health Center (CHC)
Location – Kabul
Focus – Health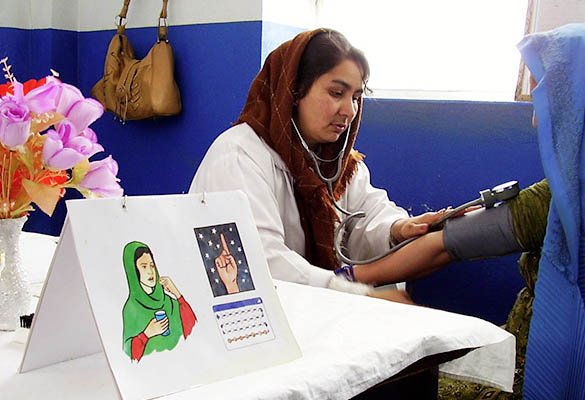 Long-lasting conflicts in Afghanistan have left the country lacking appropriate infrastructures, especially in the provision of medical services, to cater to the population's needs.
The Comprehensive Health Center (CHC) project was launched in 2013 in Qasaba, a district in the north of Kabul. Following consultations between AfD and community leaders, this area was chosen due to the systemic lack of medical service provision.
At a district level, CHCs play a vital role in providing accessible medical services to the population, and they are often the only healthcare facilities available.
Versatile management for better accessibility
The CHC welcomes an average of 1,000 patients per month; the clinic working hours are 8am to 8pm, unlike most other healthcare facilities in the area, which close at 2pm. Consultations, diagnosis fees and provision of essential medicine are offered for 1$ per patient, instead of the approximately 40$ for the same services in the private sector. The CHC also offers free-of-charge consultations for the most vulnerable individuals.
In 2019, the CHC provided medical services to a total of 59,293 patients. Patients seen across each department: 15,771 in the out-patient department (OPD); 2,081 in family planning; 607 pre/post-natal check-ups; 3,162 children assessed for malnutrition and 15,322 vaccines administered. 
Currently, the CHC employs 12 staff members, including female medical personnel; in addition, the health centers provide training to community health workers. The CHC provides services in family planning, pre and post-natal check-ups, ultrasounds, vaccinations and laboratory tests. Women and children below the age of 5 are among the majority of patients of the clinic; in 2019, about 15,322 vaccines were administered.
Since its inauguration in 2013, the number of patients treated at our CHC has constantly increased. In 2019 the CHC witnessed a higher number of patients compared to previous years and it will likely continue to grow. Depending on the availability of funding, Action for Development plans on opening another facility to accommodate the needs of the population.